Fun Art for Neuro-Diverse Young Adults
Weekly 1-HOUR SESSIONS
$25 
Contact us about
4- SESSION PACKAGES for $100
High-quality instruction with handouts

Classes currently held on Zoom

A 50% refund will be given to a student who cancels their registration before the first class. Please read our terms of service for more information.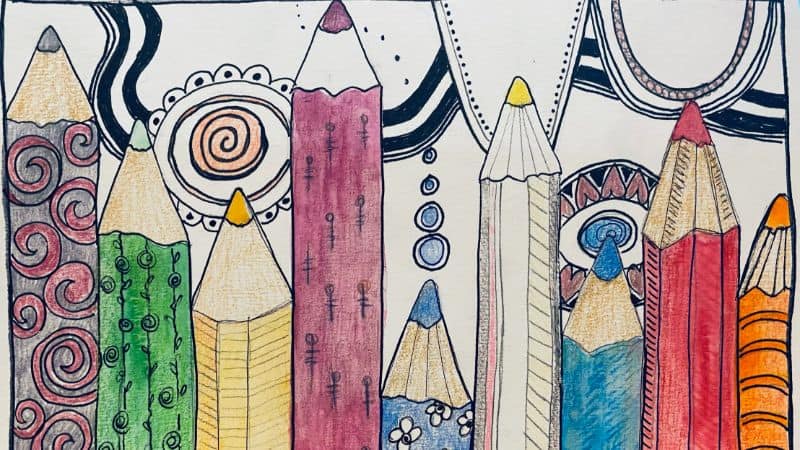 Art Lessons can be fun for everyone—with just a few small adaptations, everyone can learn. Sasha will guide you through the technical aspects of drawing uncomplicated compositions. Then, let your imagination soar with color, line, and pattern in your own unique style. And voila! You will be delightfully surprised!
Too often, we put limits on individuals with learning challenges and other disabilities. We push them to focus on studies and other developmental work as they feel that they need this to catch up to their peers. However, often they benefit from just having fun and expressing themselves. Join our creative community – all levels are welcome. Sasha will adjust lessons and differentiate to meet the needs and desires of the group.
Come join our creative community! New designs are taught every week.
Materials:
You can work with what you have on hand but these are suggested materials. Please contact Sasha if you have any questions.
9×12 inch good quality student Watercolor Paper Pad (we recommend Canson's XL)
Watercolor (tube or cake) with a basic pallet (warm and cool reds, blues, yellows, and your other favorites)
A round or flat watercolor brushes (I use Artist Loft Vienna or Winsor Newton University series 233, but any brand is fine)
A black permanent ink pen (I use a fine sharpie or Uni-ball Signo Broad)
Two jars of water, some paper towel or a rag, and your imagination
Fine sharpies, or gel-pens, or metallic and white Uniball pens are optional.
Set of colored pencils (optional)