Mindful Art: Zen Doodle Watercolor Workshop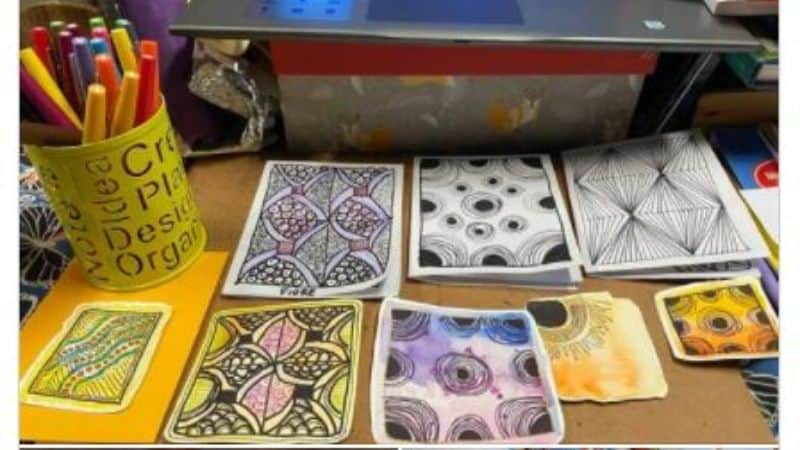 Join us for this inspiring workshop! Sasha, an educator, artist, and color connoisseur, will guide you through various slow-drawing exercises to boost your design confidence and expand your knowledge of art as a mindful practice. Zen Doodle (or Tangle) is known to many artists and craftivists to create structured designs by drawing various patterns. Some people call it slow-drawing because of its mindful nature.
Whatever you want to call it, the result is a calming, relaxing, and satisfying process of drawing with pen and watercolor to create remarkable small pieces that can become greeting cards, bookmarks, or texture swatches for larger paintings. This workshop will be a delicious hors-d'oeuvre for your watercolor mindful painting practice! Join our creative community! New designs are introduced every week.
Suggested Materials: (Students supply their materials)
9×12 high-grade student Watercolor Paper Pad (like Canson's XL)
Watercolor (tube or cake) with a basic pallet (warm and cool reds, blues, yellows, and your other favorites. WHAT YOU HAVE WILL BE FINE.
A round or flat watercolor brush (I use Artist Loft Vienna or Winsor Newton University series 233, but any brand is fine)
A black permanent ink pen (I use a fine sharpie or Uni-ball Signo Broad – but what you have is fine)
Two jars of water, some paper towel or a rag, and your imagination
Fine sharpies, or gel-pens, or metallic and white Uniball pens are optional.