Expressive Arts Saturday Online Open Studio
4 SESSION PACKAGE
$80
or $25 per session
SAVE 20% on session packages
I may guide you in using writing, poetry, movement, breath, or mindful practices to deepen your understanding of your creation

Every session is unique. Art can be deep, touching, cathartic, surprising, playful, and fun. 

Classes currently held on Zoom

Please read our terms of service for more information.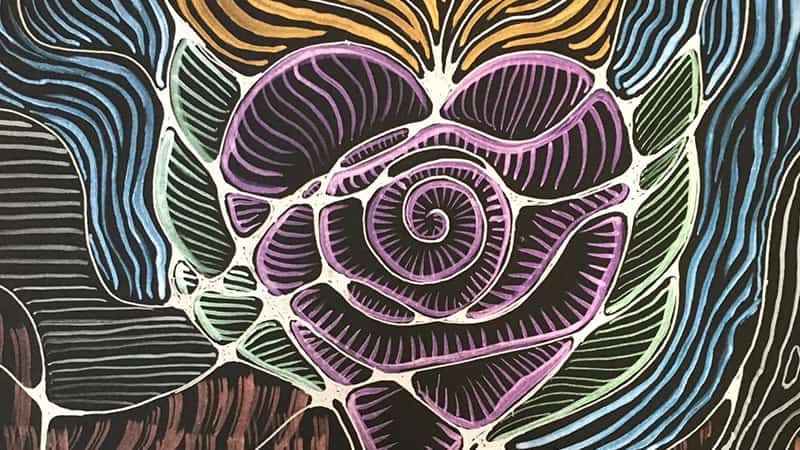 Expressive Arts are for everyone. We are all born with an innate human capacity to be creative. This is NOT a traditional art class. It is about working with the process and following its threads through different art modalities such as visual art, movement, writing, music, poetry, or drama. Because it is about the process of being creative and expressing from within, it is less about the product. A satisfying product is lovely – and our work can be quite beautiful – but it is not the primary objective. What you create is an inquiry you've made and your heart's answer to it.
Come and find refuge from life made too busy, the incessant drumbeat of bad news, the lure and grip of technology, and the endless distractions – to a sometimes forgotten place inside.
How you create your image is very individualized. There are NO WRONG ANSWERS. Your images are like your friends you meet along the trail in a park. To give feedback and support as you explore your creative journey. Sometimes I might suggest materials or a particular approach, but you are always welcome to work on anything you choose. I can give "invitations" for art making (projects that will help you explore a particular theme or goal) or support you in making intuitive art. I usually start with a check-in and move into metaphor with a poem or guided meditation. We have work time, which sometimes includes writing prompts. Often the art takes us to unexpected places! Then we witness each other's work, and we share our experiences about the process. The work we create and the emotions that sometimes come up for us can be profound and is always very personal. You are the expert on your art. I don't interpret, assume, diagnose, or critique.
"Art enables us to find ourselves and lose ourselves at the same time." Thomas Merton
This workshop is most beneficial for:
Stress or anxiety management
Learning ways to self regulate
Identifying creative blocks
Melting away the wall that feels like a creative block
Learning new ways to achieve relaxation
Learn the skill of "active meditation" or "mindful practices" for well being
Exploring self-reflection opportunities
Connecting with yourself and others on a deeper level
Learning how to play with art mediums
The Expressive Arts Online Open Studio is a space and time to explore and cultivate your creative practice. This is not therapy, but you may find it therapeutic! The emphasis is on process over product, self-reflection, creative community experience, and witnessing the journey with others. No prior expressive or traditional art experience is necessary. Use what art supplies you have on hand or request a suggested supply list.
Ninety minutes of intermodal Expressive Arts to connect with yourself and with others. A community of individuals dedicated to meeting together and exploring our inner and outer worlds through expressive arts.
Listen to what stirs inside of you. Listen to your longing. Make art. Tune in.
Be aware of the images that are waiting to emerge.
Let the images speak – in words and movement, perhaps. Find your way. Be amazed.
There is nothing else that needs to be said or done.
If you want to learn more about meditative expressive arts, read my blog here. No experience necessary!
"In the early days of our innocence, the soul needs an image that it resonates with if it is to come forward…something it recognizes, in other words, a mirror."
— Sharon Martin, Jungian psychoanalyst
What participants are saying …
"Sasha's Expressive Arts Workshops have always been an invitation to commune with your creativity, self-reflection, and soul."
"Sasha facilitates a safe space for you to slow down and enjoy the creative process. A strong believer in the healing power of art, she creates opportunities for participants to listen to their inner knowing and express themselves through their art."
Never has there been a more important time to embrace the healing power of art. ~ Sasha