Painting with Parkinson's
4 SESSION PACKAGE for Individuals
$60
or $20 per session
Call for pricing of residential groups
SAVE 20% on session packages
Teachers who are experienced working with atypical neuro students

High-quality instruction

Classes currently held on Zoom and in home privately. There is an additional mileage charge for in-home lessons.

A 50% refund will be given to a student who cancels their registration 24 hours before the start time of class. A 100% refund will be given to students who cancel with 48 or more hours of notice.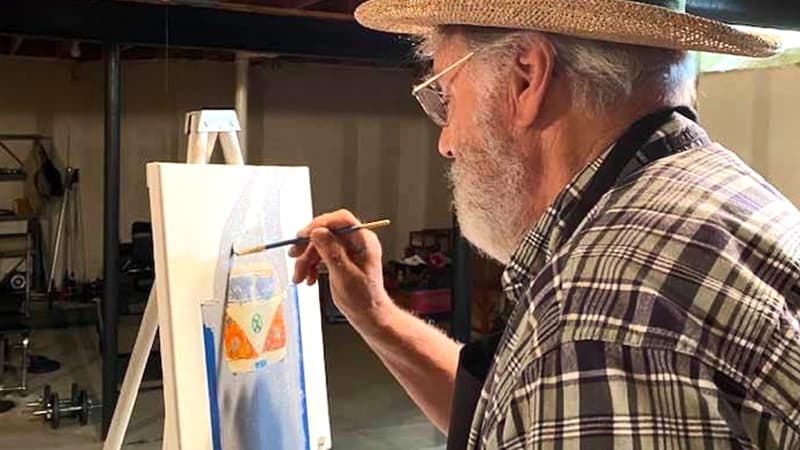 Creating Bridges Across Age and Cognition with Art
Painting with Parkinson's (Acrylic Painting)
Even if someone with Parkinson's Disease has not picked up a paintbrush since grade school, art can help improve physical, psychological, and social functioning. We provide personalized instruction based on your skill level and creative goals. We will explore hands-on color theory, paint mixing, and techniques that allow you to complete a painting in a few sessions. Students with little or no prior drawing or painting experience are welcome. Sasha will explore techniques in both watercolor and acrylic.
Peer-to-peer support also sets this class above any art lesson for people with PD. Would you like to paint as a family? Best friends forever are welcome to join as well!
Famous artists with Parkinson's include
Salvador Dali,
Pablo Picasso, and
Claude Monet.
We think our students' work is pretty awesome, too!
Painting with Memory Loss (Watercolor Painting)
At first glance, art and dementia seem to be two opposing worlds. Art is about beauty, life, and creating, while dementia is a devastating disease that leaves an ugly trail of loss and heartbreak in its wake. Bringing the two together, however, produces some spectacular results. ~Julie Evans
Research has shown that the process of creating has so many benefits and often leads to a better sense of self for our residents and helps increase their creativity and self-expression. Even individuals who are hesitant to join for the first time return to the class week after week, often recruiting their friends to come. It gives them a sense of empowerment and takes their focus off pains or other troubles. They quickly learn that you don't have to be an artist to participate, but you have accomplished something everyone is proud of in the end.
We use top-grade materials supplied and artistic terminology in all our sessions. Once the works are finished, they're matted and framed. We have partnered with some facilities to hang the works, have a celebratory art opening, and meet the artist's reception!
I will provide a material list on request. We offer lessons for groups and individual lessons to painters of all levels. Schedule a Consultation so we can talk about ARTing together!